​
Odoo is the only ERP software solution you will ever need for your business:
integrated apps, intuitive and user friendly.

Endorsed by millions of happy customers.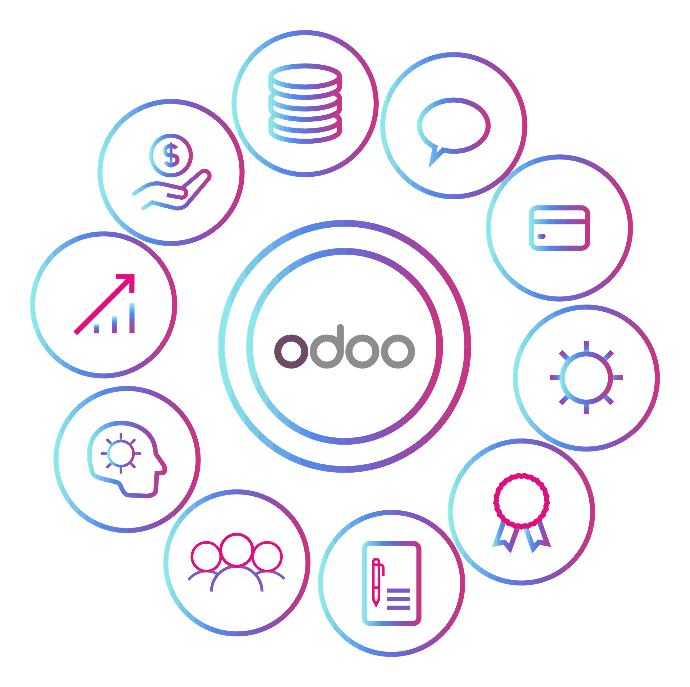 WEBSITE
​ Fast, easy to use and manage. With a professional website or online shop, you can promote your business with the highest growth.

INVOICES
Manage your invoices in the online or offline store by integrating with online, classic product or payment modules. Easy integration with all other applications.


INVENTORY
​ At any time you can access all the information related to the products, connected with other essential information, for a fully automated bussines.

MARKETING
​ Interconnections and quick links between modules capable of implementing an effective marketing strategy with fast communication with current or future customers.
SHOPS
Manage all your shops on a single platform. Here you can quickly manage all the information related to physical or online stores. ​

PRODUCTS
​Easy access to all product information: from manufacturing to inventory, service and sales.

HELP DESK
Internal communication and Help Desk integrated in the same unique platform, for a transparent communication.

CLIENTS
Easily manage email campaigns to nurture your leads and get more clients. Perfect integration with your CRM module.
Over 50.000
companies use Odoo to grow their businesses.
Discover all the Odoo apps and how you can use them to digitize your business!
Some of the companies where we implemented Odoo.

​

Am descoperit că modulul Inventar este un instrument puternic pentru a ne organiza mai bine depozitul. Este simplu și ușor de personalizat.
​

Odoo ne-a oferit beneficiul de a avea operațiunile noastre de afaceri într-un singur loc. Acum suntem mai bine echipați în relațiile cu clienții din diferite țări, în diferite perioade.
​

"Cu Odoo CRM, păstrez toate informațiile despre clienți potențiali și clienți într-un singur loc. Este grozav și eficient."